D r a g & D r o p M u s i c T o o l.
B u i l d F r o m B l o c k s.

Use loopable music sections, to easily create background tracks for your video or podcast to fit the timing of your video.

All included musical tracks come with a set of convenient timed versions (Full Mix, 60s, 30s, 15s). There are also sting versions you can use for Podcast / Youtube intros and outs.

Our license covers use on YouTube and Podcasts, whether you monetize your projects or not. The license with your details is delivered automatically to you upon purchase to give you absolute peace of mind.

All sounds and musical phrases come in 24bit 48kHz wav file format to ensure the highest quality and the best video editing software compliance at the same time.
Positive and fresh music that is flexible and easy to use by video and podcast creators.
12 Fully arranged and mastered positive music pieces.
Alternative mixes are arranged differently to full mixes to give you more choice.
A short snippet of the Full mix. Great for video intros and outros. Example:
60 seconds, 30 seconds, and 15 seconds mixes are included for your convenience. Example (15s mix):
Underscore mixes are great to be used under conversation/voice-over.
Loopable sections of the Full mix and Underscore mix to give you absolute freedom in an arrangement. No musical knowledge required. Put Intro, then use loops of your choices and stick the outro at the end to create your custom arrangement.
Positive Music Sound Pack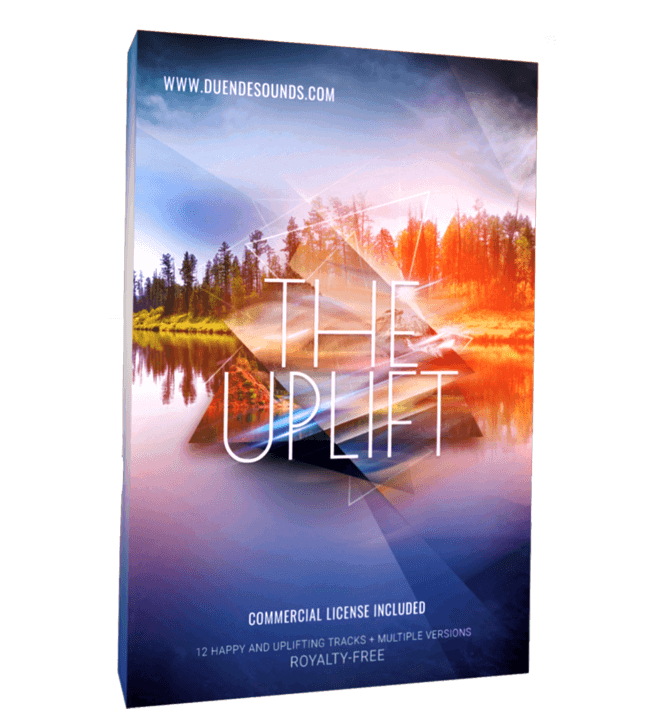 12 positive Acoustic/Electric tracks ready for your video. All tracks have been professionally mixed and mastered and they are royalty-free!
Over 80 alternative and timed versions for maximum convenience.
Drag and drop loopable sections to your favorite video editor and create the arrangements you need. Whether you need hour-long background music for a podcast or 40s advert music, you can make it with ease.
All sales include a commercial license in your name, so you can enjoy peace of mind that the track can be widely used.
Each track comes with Main Mix, Alternative Mix, Underscore Mix (great to put your voice-over) and timed versions (the 60s, 30s, 15s), and short sting mix.
Full Compositions Previews:
Take the opportunity today and get "The UPLIFT!" for a $64 one time payment.
"Evince" and other packs on our site are digital downloads. Once you have purchased your products will always be available for download through your personal account on our website. 
For all queries please contact us via e-mail info@duendesounds.com – we are always happy to help.
Yes, it is. You may use our sounds with videos that you make for your client. You may NOT, however, re-sell or re-distribute our sounds or music in any way. For example, you are not allowed to sell stock videos that include our sounds, but you can create a promo trailer for one client with our sounds and then on different occasions another video for another client etc.
Yes, all music on our site is royalty-free.
Almost any video editing software or DAW will just do!
All sound effects, musical parts, and music on our site come in 48kHz 24bit Wav file format meaning that all popular video editing software and apps can be used with "Evince". Also, All musical DAW can be used.
Video Apps Examples:
Adobe Premiere, Sony Vegas, Final Cut Pro, Adobe Premiere Elements, iMovie, Windows Movie Maker, Kinemaster, DaVinci Resolve, LumaFusion, Pinnacle Studio, Filmora9, CyberLink PowerDirector and more…
Musical DAW Examples:
Logic Pro, Fruity Loops, Ableton Live, Pro Tools, Cubase, Garage Band, Reaper, Studio One, and more…
Add Your Heading Text Here

Take the opportunity today and get "The UPLIFT!" for a $64 one time payment.
We are a small team of music producers and musicians with a great passion for videography based in the EU. Our exact business details can be found on the Terms and Conditions page.
Our mission is to provide the highest possible quality sound/music tools to those who seek to create beautiful and professional sound design and music for a film. At Duende Sounds we not only want to provide great quality sound products for filmmakers and music producers, but we also want to provide the best quality tools at affordable prices.
By purchasing any of the products from Duende Sounds you not only gaining access to great music and sound effects but also help a small, yet, very dedicated team of music producers to support their families by working full time in their dream jobs.
Thank you for choosing Duende Sounds