Create your beautiful cinematic soundtrack for any media content.
Bring your film, podcast, game, audiobook to the next level by creating your own cinematic soundtrack in any video editing app or sound editing software.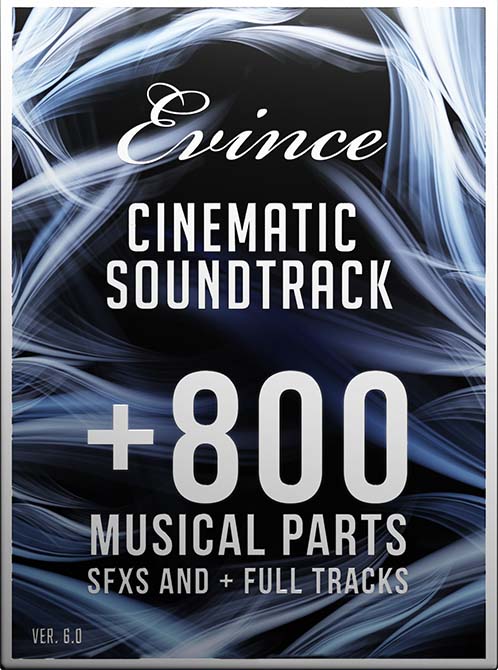 Use the mood-shaping compositions to create emotions. Over 300 composition parts were organized into 17 mood-shaping compositions. Easily mix, loop, and layer in hundreds of ways to achieve desired emotions. Provided composition parts work great on their own as well as layered together.
Short samples of included compositions (example arrangements):
Bring meaningful and carefully crafted signature sounds, to express the scene's feel in your film. Our tonal one-shot Signature Sounds match all of the compositions parts and the entire "Evince" library.
Sound Signatures (examples):
Trailer Hits, Deep Impacts, Risers, Ambience Sounds, Wooshes, Risers, and Rhythm SFXs parts are included in multiple convenient versions. We keep designing new sounds all the time and keep updating Evince on a regular basis with the best quality sound effects.
Examples:
All musical tracks and sounds included in "Evince" are cleared for use on all social media platforms commercially and for personal projects.
Generate your license from your customer account and enjoy peace of mind.
Enjoy new additions to the "Evince" pack at no extra cost. Access the new downloads from your customer account on our website.
Tight on schedule? Use pre-made full musical tracks. 
Drag and drop pre-arranged parts that line up perfectly and remove musical sections to your taste. Your custom cinematic background music, ready in minutes.
Included Full Track Previews:
High-quality .wav files were used as a file format for "Evince" to ensure the best quality and compatibility with all video and music editing software.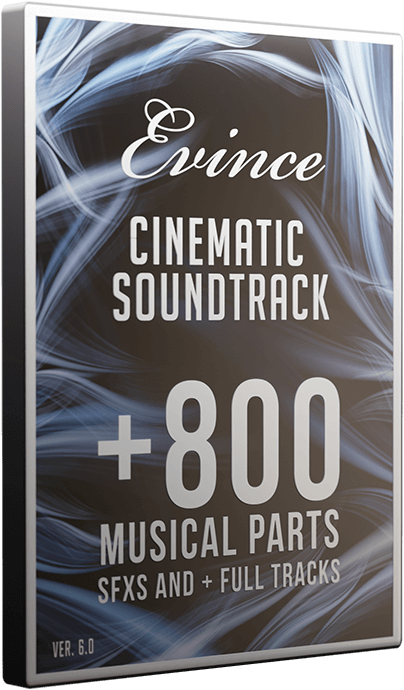 Evince is a first-of-its-kind sound and music tool for filmmakers. It allows a video editor to easily create a custom soundtrack with our bespoke ALL match ALL technique. Melodies that are provided in composition packs can be seamlessly looped and used with all other SFXs that are included.
OVER 300 HIGH-END CINEMATIC SOUND EFFECTS (WAV 48KHZ 24BIT FILE FORMAT)

120 TONAL "SOUND SIGNATURES"

OVER 300 COMPOSITION PARTS

PRE-ARRANGED STEMS

17 FULL CINEMATIC ROYALTY-FREE TRACKS

INDIVIDUAL CUSTOMER SUPPORT

LIFETIME FREE UPDATES

COMMERCIAL LICENSE.

9GB OF SOUND FILES (AFTER UNZIPPING)
Stack musical phrases and sound effects together to achieve a wonderful cinematic soundtrack for your project.
About

Evince
Evince is a first of it's kind sound and music tool for filmmakers and content creators. It allows a video/sound editor to easily create a custom soundtrack with our bespoke ALL match ALL technique. Over 300 melodies that are provided in composition packs can be seamlessly looped and used with all other SFXs that are included.
The tonal signature sounds were created with all included melodies in mind to match them all. It means that there are more than thousands of ways to shape and create the sound you want. You will never run out of options.
Whether you are a filmmaker who wants to take the step up in your creative process or a music composer who needs extra tools to provide sound/music to a film, Evince is your best choice.
About Us
We are a small team of music producers and musicians with a great passion for videography based in the EU. Our exact business details can be found on the Terms and Conditions page.
Our mission is to provide the highest possible quality sound/music tools to those who seek to create beautiful and professional sound design and music for a film. At Duende Sounds we not only want to provide great quality sound products for filmmakers and music producers, but we also want to provide the best quality tools at affordable prices.
By purchasing any of the products from Duende Sounds you not only gaining access to great music and sound effects but also help a small, yet, very dedicated team of music producers to support their families by working full time in their dream jobs.
Thank you for choosing Duende Sounds!